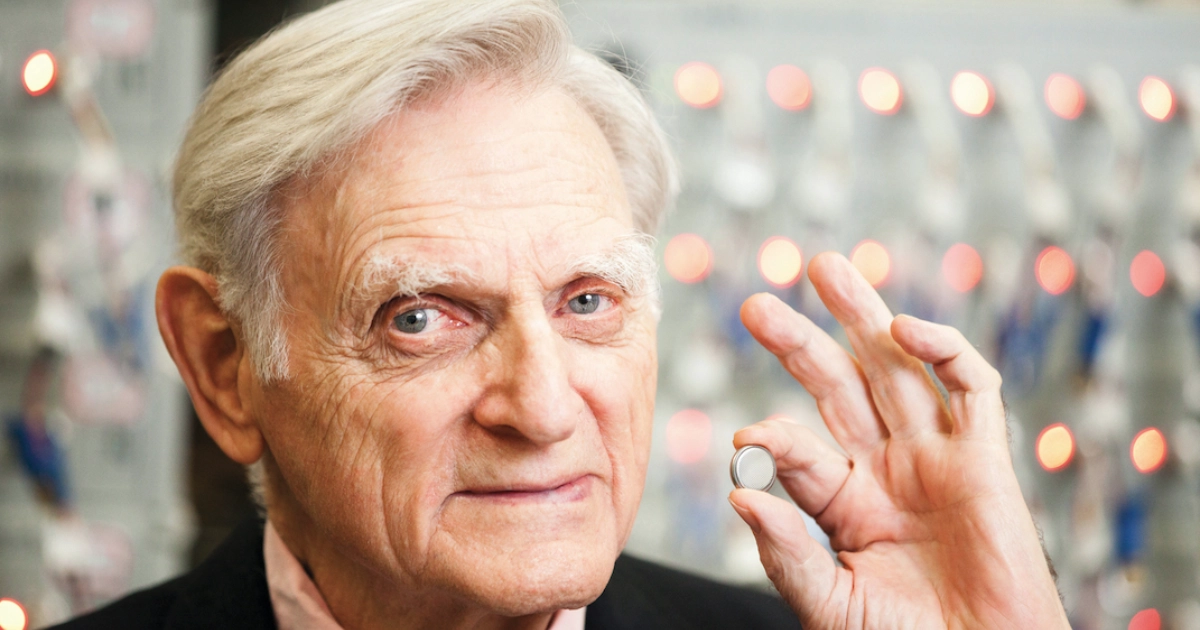 Goodenough was far from predestined to be one of the most influential scientists of our time. As a child, he struggled with reading due to dyslexiaand would have to forego college due to the Second World War. After the war, he was selected by the army to study physics at the University of Chicago. In 1952, at the age of 30, Goodenough finished a PhD in Physics under the supervision of Clarence Zener at the University of Chicago.
He ended up at the MIT Lincoln Lab where he helped create one of the first forms of computer memory. By the early 1970s, it became apparent that energy, especially that in the form of fossil fuels, could be subject to bottlenecks which would later manifest in the oil shocks of the late 1970s. This motivated Goodenough into shifting his focus towards battery technologies.
In 1976, the first viable Lithium-based battery was patented by British chemist Michael Stanley Whittingham. Whittingham's breakthrough was the battery's low weight, high energy density and its capability to work at room temperature. However, the battery still had a few kinks that needed smoothing out: as the battery charged and discharged, the surface of the lithium metal anode became rough, eventually spawning long narrow fingers, or dendrites, of lithium. These grew across the electrolyte and, when they touched the cathode, caused internal short-circuit that could make the battery explode.
This inspired Goodenough to pursue the development of an improved lithium-based battery. Between 1976 and 1986, Goodenough was head of the Inorganic Chemistry Laboratory at the University of Oxford. It was here that he and his team showed how oxide cathodes would perform in a Li-ion battery and would be safer than the previous lithium designs.
Goodenough's solution was a layered sulfide cathode that allowed the insertion and extraction of large amounts of lithium between its layers (a process scientists call intercalation). Goodenough reasoned a layered oxide cathode would react similarly, providing a higher voltage that would enable a significantly higher energy density
However, Goodenough faced another problem: Lithium is inherently unstable and batteries were, until then, always produced charged, ready to power electronics once out of the factory.
In 1986, he took the Virginia H. Cockrell Centennial Chair of Engineering at the University of Texas at Austin, where he continued his studies of both the fundamental properties of transition-metal oxides and the development of materials for alternative electrochemical technologies to realize a sustainable energy supply for modern society.
In 2001, Goodenough received the Japan Prize, a highly prestigious award similar to the Nobel Prize that is awarded each year for achievements in science. He was awarded the prize thanks to his crucial role in the discovery of materials critical to the development of Li-ion rechargeable batteries. In 2011, then-president Barack Obama awarded John Goodenough with the National Medal of Science for Engineering.
Goodenough has received some recognition for his role, but he is still undoubtedly underappreciated and he gave up a fortune by not pursuing patent claims to the Li-ion battery.
Goodenough, now a 96-year old professor at the University of Texas at Austin, never stopped working. For him, the Li-ion model just wasn't good enough, prompting him to return to the forefront of battery development in December 2016 when his team published a paper on the glass battery, a type of solid state battery that uses a glass electrolyte and lithium or sodium metal electrodes, with the cathode being made of carbon. This type of battery has received some skeptical response from the scientific community, although his reputation has negated some of it.
John B. Goodenough is a remarkable scientist, a devoted and intelligent researcher who, despite providing the battery behind the modern electric appliance revolution, has remained humble and focused. He has gained little wealth from his work, and he is not seeking fame nor popularity, but when asked what he would like to see from humanity, he had this to say:
"I don't want man in his greed to exploit the resources of earth to turn what should be a garden into a desert."
We salute Goodenough for his inventions and at FUERGY, we promise to make the best use of his invention by making it play a crucial role in reducing carbon emissions and fossil fuel dependency, and, at the end in closing the gap between ecological and economical.
In our next article on batteries, we will look at current developments of Li-ion batteries and how companies are already working on the new and improved versions of Goodenough's invention so don't forget to visit our blog. f you want to learn more about FUERGY, subscribe to our newsletter, follow us on Twitter or join our Telegram to make sure you won't miss any of our news.
We are living in the future of energy. Are you?